Among so many projects throughout the Dominican geography, Tayrona Capital Group with hotels all over the world chose the city of Las Terrenas in the Dominican Republic for its first sustainable tourism development in the entire Caribbean. Because it is one of the most beautiful places in the country, because of its unique nature, its beautiful beaches and its beautiful people (from the inside out) make anyone fall in love with the area.
The concept is to develop a sustainable project that preserves the environment but also favors the social and economic growth of the inhabitants of Las Terrenas. Our main focus is to develop a construction integrated with nature, so as not to generate negative environmental impacts, since it would affect the project itself. More than a responsibility, it is a commitment that we have with the community
"Blu Terrenas" will have a total extension of three million square meters from the beach to the hills, and will connect Avenida 27 de Febrero with Boulevard del Atlántico with public streets donated to the community.
It will have a shopping center open to the public of 85,000 m2 with international and local stores, restaurants and an amphitheater on the water with capacity for 2,500 people. Among the cultural amenities, it will have the first museum of the evolutionary history of the Dominican Republic, 3D movie theaters and an artisan market to offer an exhibition platform for local artists, a fire station for the entire community, a sports center with different types of fields, and an academy that will prepare the young people of Las Terrenas for free in services in the tourism and hotel field, every 6 months they will prepare, with a nationally and internationally recognized teaching body, 30 young people as future hotel managers, chef, A&B, Maintenance, Housekeeper, among others.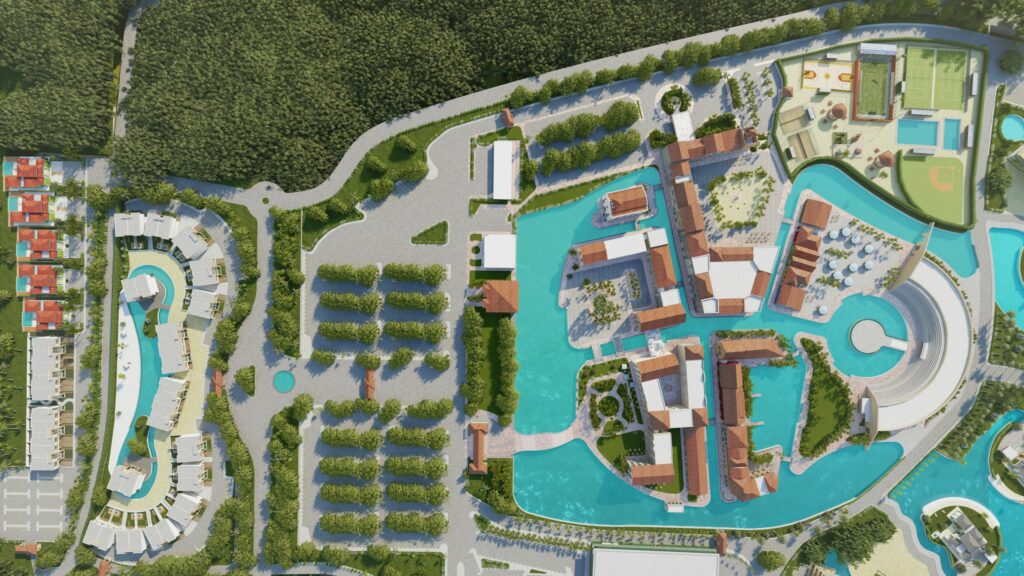 As well as the first congress center in the area. In addition, it will include a 480-room 5-star luxury hotel, villas and townhouses located on the beachfront, and 1, 2, and 3-bedroom apartments that will border a lazy river certified as the longest in the world.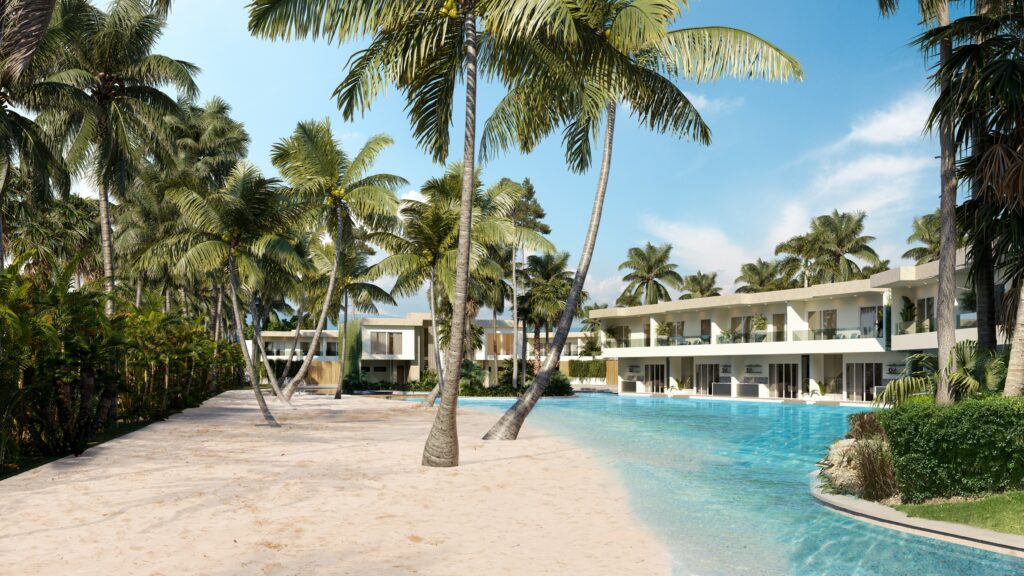 Blu Terrenas: an eco-friendly project, all the roofs of the parking lots and buildings will be prepared with solar panels to offer electricity for common areas and public streets, inside it will have a natural park of almost 1 million meters for preserve the existing micro habitat on the property.